Note Cards Florals & Related
Over the years, I designed and produced thousands of Note Cards for museums and other institutions. One of the reasons for their popularity was the unique glossy laminated wallet style packet designed in the late 1960's that carried the cards. The packet makes an attractive presentation that safely holds the cards and envelopes. The front and back show the cards inside. On our site, In most cases, you will see both packet and cards. The cards shown on these pages are all from the original productions, are in perfect condition, and the prices are at a great savings compared to todays regular prices.
Botanical Prints Note Card Packs
This group of note cards was produce for the Philadelphia Horticultural Society, the oldest horticulture society in America. The sets show various flowering plants that are reproduced from books in their library. We are sold out of sets 3 and 4 Price $9.95
Free Shipping when ordering any two sets.
F
lower Still Life
. Maria van Oosterwijk painted this lovely vase of flowers in 1669. She was a major force in the Dutch "Golden Age". It is joined by another work from the same period of Dutch/Flemish painting The second card in this set is by Willem van Aelst, he painted this
Flower Still Life
in 1633. Both paintings are in the Cinciinnati Art Museum. Price $9.95
Free Shipping when ordering any two sets.
We also have a lovely
blank Journal
with the van Oosterwijk
Flower Still Life
image. The Book and Note Cards make a beautiful gift pair.
The cards in this set were painted in 1625 by Balthasar van der Ast. Both paintings he titled
Basket of Flowers.
They are considered small paintings being (approximatelym 7 x 9 inches). Probably painted as.a paired for one of his patrons. They reside now in The National Gallery of Art, Washington. Price $9.95 Free Shipping when ordering any two sets.
To see more Dutch Florals you may wish to look at our Dutch Floral Any Year Book of Days
19th Century Seed Packets
These are an interesting set of note cards as the cards illustrate two Trade Cards which were in common use by merchants in the late 19th Century. Some times printers even embossed the cards . The printing technique was called Chromolithography. Up to 20 strikes of the plate was sometime used to give subtle colors life. In a period between 1870 and 1910 they were used as inexpensive advertising and promotional material. Now they are valued collectables. Price $9.95
Truly a legend in his own time and still now. Born in England in 1834, he was a decorative craftsman. He believed that art should be in all aspects of life . His work included designs fo wallpaper, chintz, tiles, stained glass and furniture. The two cards in this set show his
Sweet Pea
and
Blossom
patterns that he made as wallpaper designs. Price $9.95
We also have William Morris design patterns on Giftwrap, Cards and Paper Cubes
Nature and flowers were subjects that artists used worldwide. The Chinese artisans in Qing dynasty (1723-1735). were no different. These enamel decorations grace the surface of a Flask and a Teapot
Price $9.95
This fine example of the American metal worker's craft makes the interesting design for these cards. It is part of the du Pont estate's collection of antiques. Price $9.95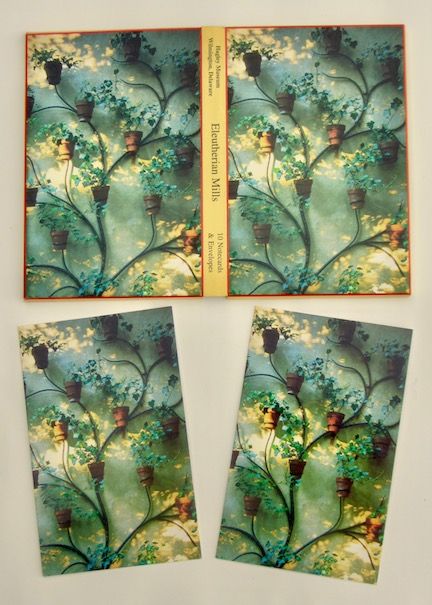 You will find many items with floral designs on other pages. Below are some links, when on the page you may have to scroll down.