Paper Cubes, Post Cards, Gift Wrap
Willliam Morris, Compton design or the lovely Aracari cube with pencil hole. Buy 1 for $15 or 2 @ $30 and get Free Shipping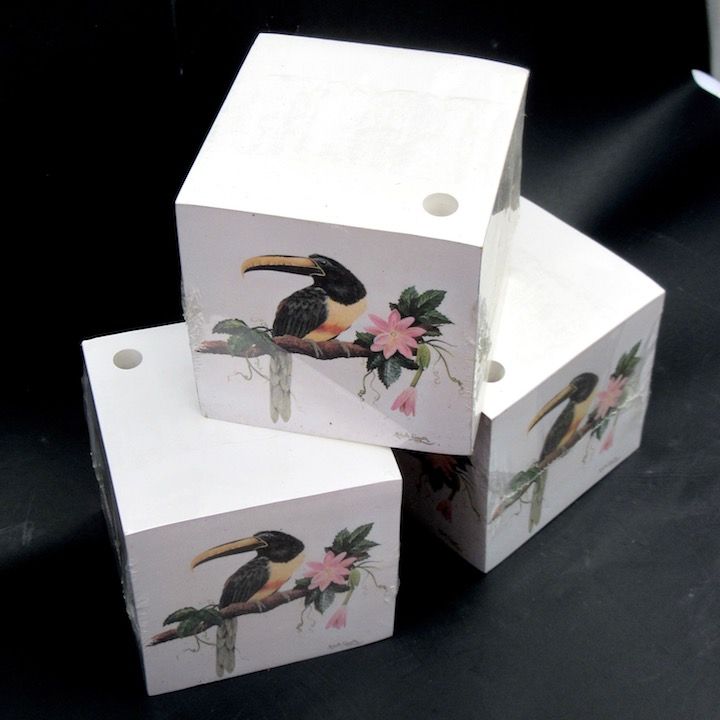 These paper cubes have the design clearly printed on all 4 sides by 4-color process printing, which is superior in quality to silk screen printing used on many note cubes. 600 blank white pages (tear-off, not sticky,)
These are cubic pads of paper, 3.5" x 3.5" x 3.5", of high quality paper that are side glued and shrink-wrapped . The Aracari Cube also has a hole drilled for pen or pencil.
See more William Morris items lower down on this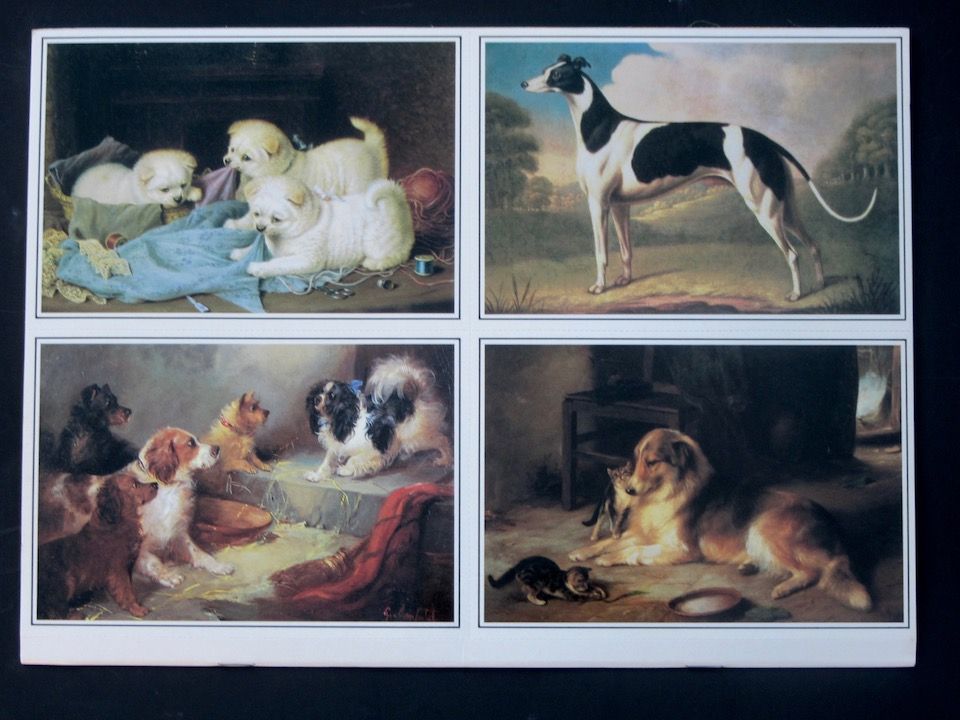 Over the years I have been accused of being just a cat lover. This was not really true, so I made up this fold-out book of 22 Post Cards. ALL are of dogs which can be sent or framed, as they have been micro perforated to easily separate. Each card has information on the painting shown. The postcards are 4.5 x 6.5 inches. New, but vintage as it was printed in 1978! Shrink wrapped.
$12.95 that's less than 60 cents for each card!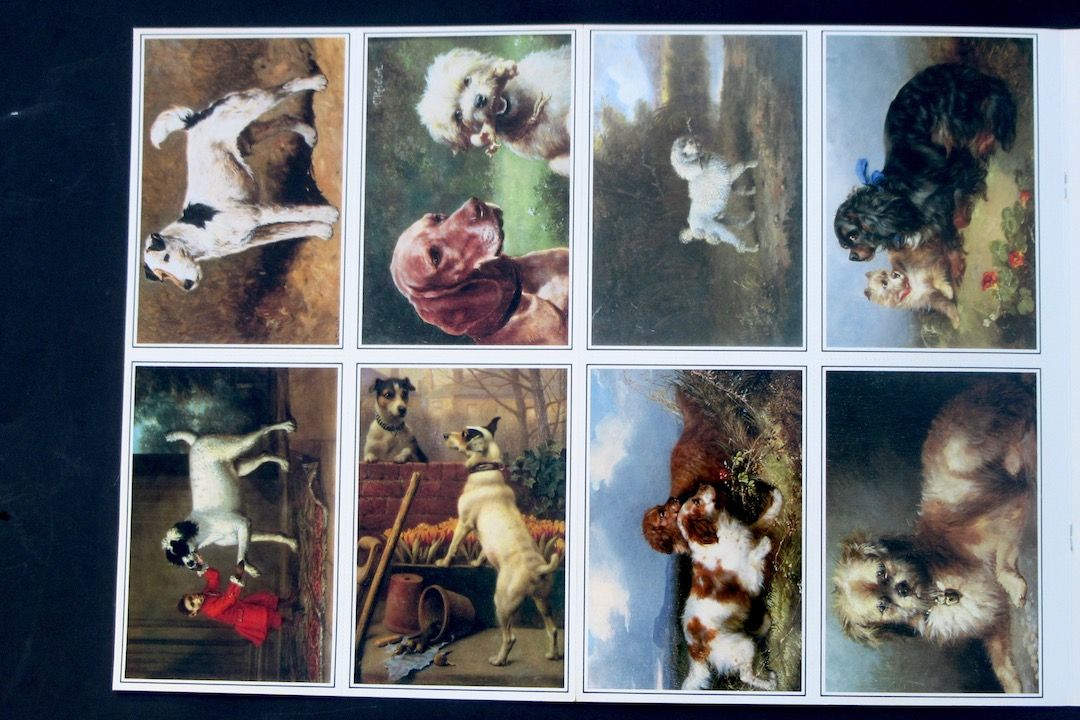 New York City's Cathedral of Saint John the Divine, "The Riverside Church" is Interdenominational, Interracial, and International. The church has some of the finest stained glass windows in the country. One of the finest, is the Music Window with its vibrant colors. It shows a whole range of musical instruments and situations from around the world, including African Drums, Carillon, Harp, Chinese Gongs, the Indian Vina and even a radio. The 2 sheets folded in the pack, have a
high gloss lamination finish
making the exquisite wrapping a foretaste of your gift inside. 2 sheets of Size 18.25" x 24.5" 2 Folded Gift Cards 2" x 3"
$ 5.00 per packet SOLD as 3 Packets with Free Shipping
Dali's, The Disintegration of the Persistence of Memory, Writing Paper
The Disintegration of the Persistence of Memory
was painted by Salvador Dali in 1952-54 and is one of his most famous works. It is currently housed at The Salvador Dali Museum, St. Petersburg, FL. The surrealist artist Salvador Dali (1904-1989) was born in Figueres, Spain.
This set of stationery has 24 sheets of quality writing paper and 16 envelopes,
Paper size 5.75" x 8.5".
$12.00 each.
Buy 2 sets @ $20 and get Free Shipping
WILLIAM MORRIS
(1834-1896) Gift Wrap Sheets
Morris was prepared to enter the church during his studies at Oxford but he gave up Theology, and worked for a firm of architects. In 1859 he married Jane Burden, who had been a model for the British Pre-Raphaelite painter, Dante G. Rossetti. It is said that his marriage led to his interest in interior design. He produced designs for carpets, chintz, stained glass and tiles. What perhaps he is best known for, are the wallpaper designs he produced in great numbers and which are noted for their step and repeat patterns and the use of bright color.
To me, the purpose of Gift Wrap is to wrap gifts in a pretty paper. I am now told that it is used for all sorts of craft projects such as covering binders and albums, covering boxes to hold treasure or recipe cards and even making lampshades. I wish I were so talented! Cards were mentioned also but I have a couple just below.
This is vintage gift wrap made by the Sanderson Co. in England in 1987. Each sheet is
27 x 19.25 inches
. Six (
1 each of the designs
shown above).
Rolled in Mailer Tube. FREE SHIPPING. Only $30.00
This is the
Strawberry Thief,
a William Morris design. These are individually wrapped cards that have the image on
BOTH the Front and Back
of the card with the inside left blank for your message. Each card comes with a white envelope. Below is the lovely
Flowerpot
design. Size 5 x 7 inches
Sold in groups of
5 cards for $15.00
with FREE Shipping
The set of Note Cards on the right have 5 cards of the front design, Sweet Pea and 5 cards of the back design, Blossom, with 10 white envelopes. Note Card Packs make wonderful Teachers Gifts and for any time a little
Thank You
is deserved. Card size 3.5 x 5.5'' Free shipping with any 2 packs.
Priced at $9.95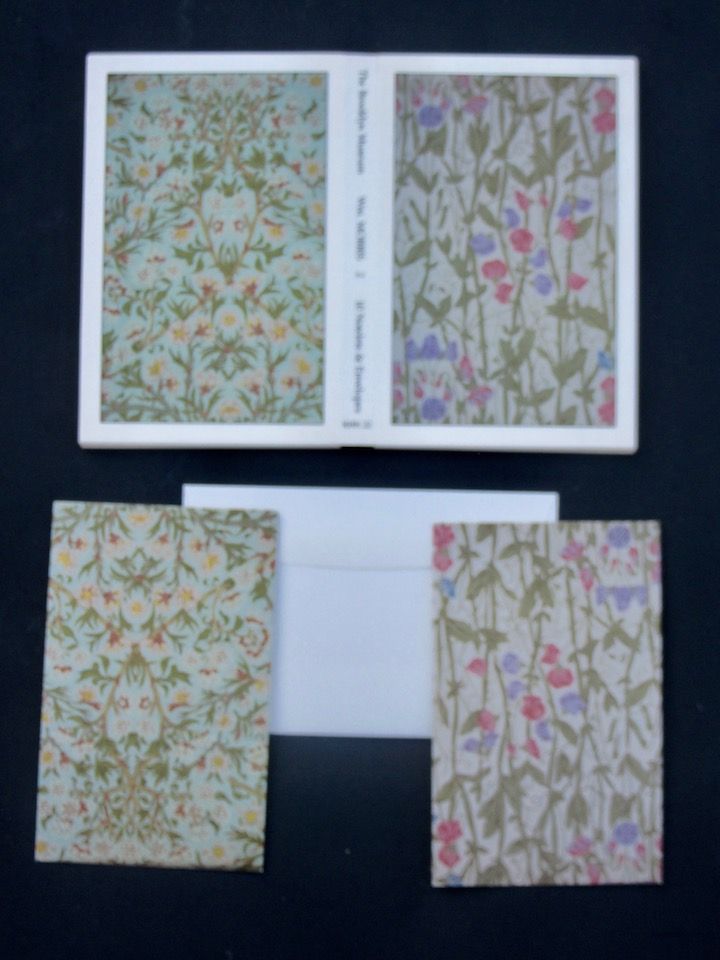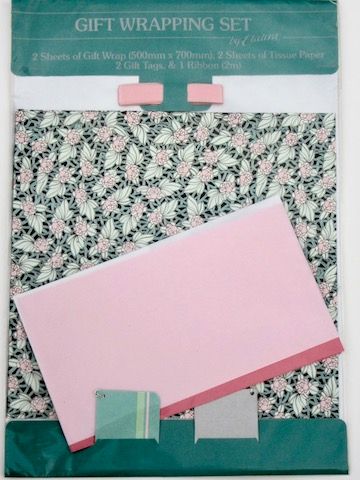 Convenience, or emergency gift wrap. We all have those times when an unexpected gift arrives, You are faced with a moral dilemma. Say "Thanks" with a smile, or remember that you did have a little something for that person. The drawer with the presents for "re Gifting" is searched. Be sure to remove any loving previous messages and proceed to your emergency gift wrap.
Here we have two sets of gift wrap. Each packet contains two (2) large sheets of paper (27.5" x 19.5") quite suitable for a lady or gentleman. Two (2) sheets of tissue paper and two (2) gift tags plus 2 yards of ribbon if out of Scotchtape.
Now return smiling and say I knew I had it, just forgot where for a moment.
2 Gift Wrap Sets, (I of each style), only $10