GENTLEMEN'S EXTRAS & some things for his GENTLELADY
OK so who wears ties any more. (Yes, we do have some nice silk ones). This page will offer some unusual items like a rich brass Brookbrae Universal Sunclock, a gift for those who have it all. That is, if they already have the Brief-cased Executive Trainset. However, there are relatively inexpensive items like an English Stainless steel, stag handled Bar knife in presentation case. BUT, starting with these great Scottish Golfing prints.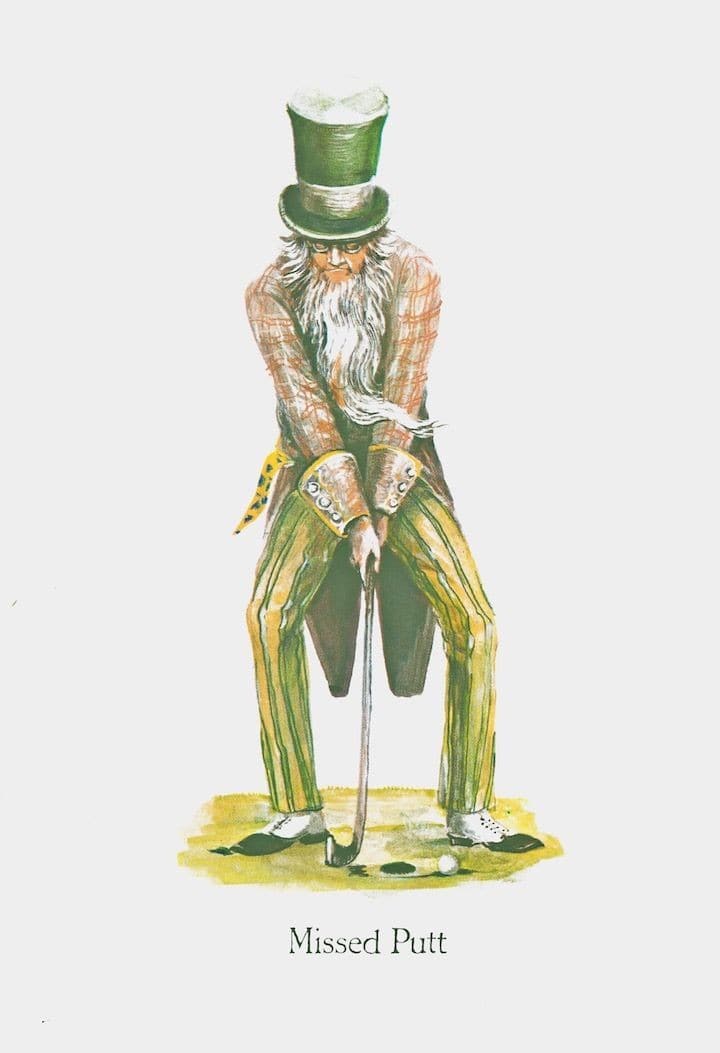 These are matted reproduction prints of drawings by the Scottish artist Norman Orr. When you frame these prints they make an ideal display for the den, a bar or where ever you would like a bright colorful humorous piece of wall art.
The edge of the matte's opening for your print is bevel cut so your print will not touch the glass of the frame you use, plus the light color matte enhances the colors of the image.
A great gift for the Golfer You Know!
Ready to frame. Size: Overall 9 x12 inches. Image size 5.5 x 8.5 inches
Only $18.95 each
FREE SHIPPING when you purchase 2 prints.
By clicking on the box below you may order any number or selection of prints.
I also have 3 sets of the original vintage prints. Offers invited over $250 PER SET OF 6
.
The trophies of the U.S.G.A. are hallowed in certain circles. If you would like to present your golfer with his or her own
U.S. Open Championship Trophy, U.S. Amateur Championship Trophy or the U.S Women's Amateur Championship Trophy, .
Genuine St. Andrews Golf Putter
Truth be told, I know nothing about the game of golf. Some time in the late '60's it was thought that a genuine St. Andrews Putter would be a nice addition to our range of Gentleman's Gifts. I ordered a dozen putters from one of the most prestigious golf makers in St Andrews, Scotland and to this day they were lost in a dark corner of our ware house forgotten, The Putter is 35.5 inches in length I am told that the wooden shaft is English Hickory, also that the hand grip is reversed goatskin. On the head is the name Swiken of St Andrews St. Andrews Putter.
I am also told that a price of only $50 is a steal for the buyer.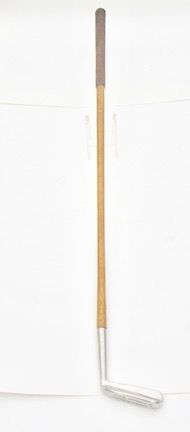 Leather-covered Glass Flask
In its rich burgundy leather cover is the life saving half a pint / 8 ozs of your favorite beverage, be it iced tea or maybe something stronger. It is secure with a double screw top. It may not have escaped your attention that the outer cap can also act as a shot glass, as I am sure you would not want to just take a nip from the flask, Yes, also from England. Sorry, sent to you empty. Priced at $28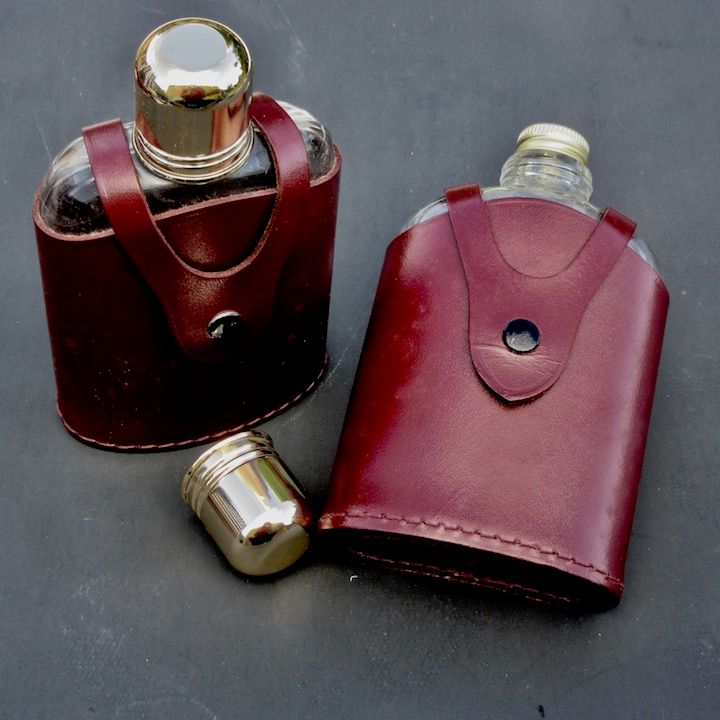 I want to stress that while much that is for sale on my site is considered "vintage" having been made in the 1960's and 70's. It is all new product, never having been used or previously sold.
Just for medicinal purposes! These types of neat, curved stainless steel containers have been in the pocket's of many an English gentlemen. The contents have revived the flagging interest in some most boring situations. Made in England. I have 2 sizes (6 and 8 ounces) of these highly polished gentlemen's accessories. 6oz. $16.95. 8oz. $19.95
Buy 2 Items on this page AND get Free Shipping
An Award Winner from the Design Centre of London. Light but sturdy, this is a simple but most effective cork remover. Its' sturdy construction makes this ready for heavy duty use and allows you to extract any size cork! Let it stand independently as a pleasing addition to YOUR bar. Opening a bottle of wine can be either an embarrassing, moment or not. Since you want to make it look effortless in front of your dinner guests, a good corkscrew is vital when wine bottles are being opened right at the table. To use, simply place the base of the corkscrew over the top of your wine bottle. The top handle makes turning it simple, just turn it clockwise in order to insert the non-stick spiral into the cork. The base sits on the neck of the bottle to keep the corkscrew upright to properly extract the cork. Turn the larger handle clockwise until the cork is fully extracted from the bottle. Now you are ready to serve a delicious glass of wine!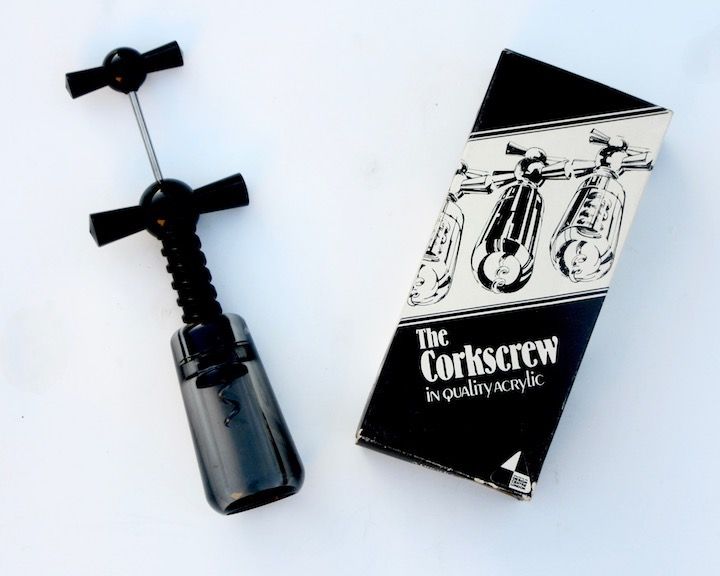 1970s Black Acrylic Double Helix, Vintage Corkscrew Collectible Barware, Boxed. London's Design Centre Award winner. $19.95
For the Musician, or for those who like Train whistles
Sometimes we all want a bit of silliness and this may be considered a Gag Gift, BUT in fact, it is a real musical instrument, a three tone whistle. When you blow through the acrylic mouth piece the 3 brass pipes form the perfect sound of the old western railroad warning. So, a great gift for the Railroad enthusiast, or an additional piece for the orchestral wind section. Made in England by the world's foremost whistle maker, Acme. Overall length 6.5 inches In The Grenadier Collection Presentation box $47.50. Additional whistles $42 each.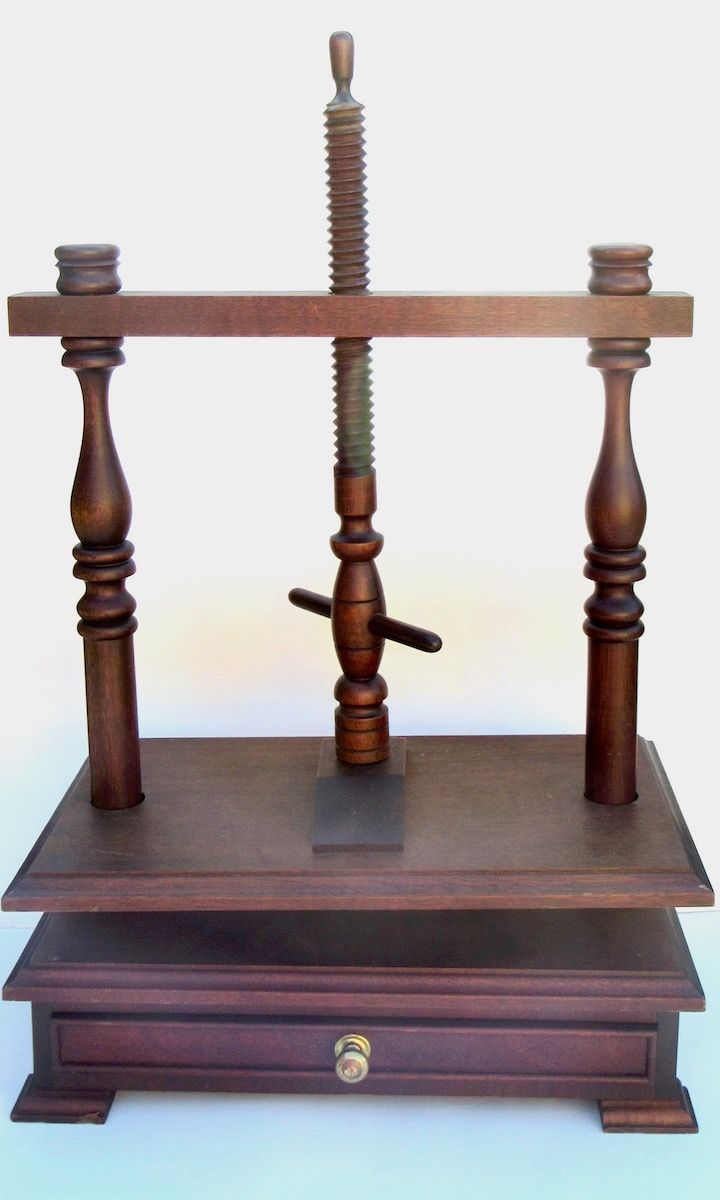 Now, this is getting to be a serious collectable or home decor item. However, it is a craftsman's immense skill that has turned quality mahogany wood into both a thing of beauty and practicality. This book press is providing a real practical working machine that will keep rare and old books from warping or damage. The attention to detail is amazing with hand cut dovetail joints in the base drawer. The actual work of turning the uprights is spectacular and what can be said about the beautiful wooden cut thread of the pressure screw and plate. Truely a one of a kind. BUT, the news is that in the 1970's, I commissioned a talented Welsh craftsman to make me a number of these for a major department store chain. The management was designing their stationery departments to be like a club library. He worked diligently, completed the order and today I have 5 units remaining.
Priced $325 each.
Inconspicuous Brass Magnifying Glass
I confess my hawkeye vision is not as sharp as it once was, yet who wants the world to know. So, I was happy to remember that many years ago I sold these really neat magnifiers. Made in England, this polished brass unit has a powerful 7.5 magnification glass lens which is only 1.3 inches in diameter. The whole length is less than 4 inches, so can be unseen in my shirt pocket, BUT, ready for that menu. I have about dozen of these. All in their original tissue wrapping and velour pouch, $17.50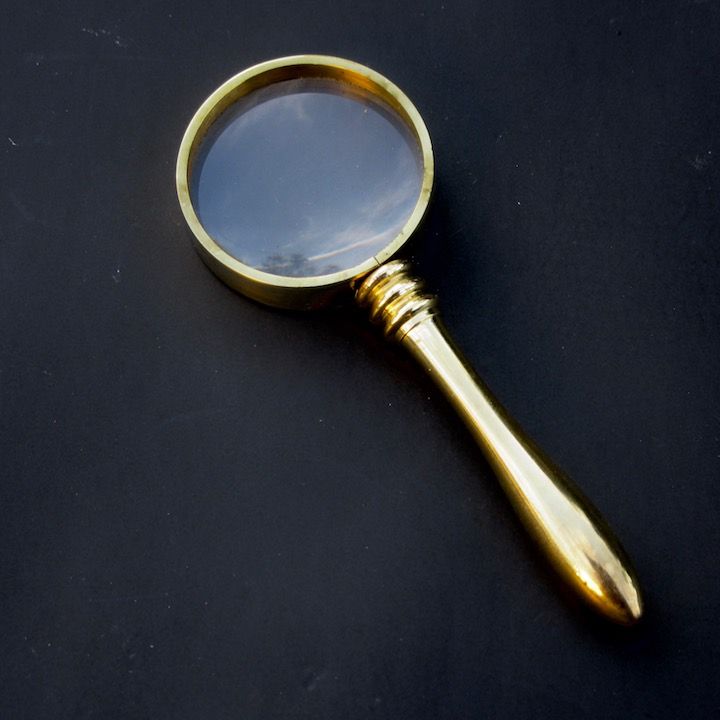 Extending English Brass Toasting Fork
Toasting Marshmallows over the fire-pit is not new, just a new twist to what the English gentleman was doing in Victorian Dining Rooms with slices of bread and then spread with Goose fat. However, then as now, the heat of the fire maybe is greater than is comfortable to be close to. Solution, a longer toasting fork! This polished brass fork telescopes from the basic 18 inches to 30 inches, making it a wonderful tool to hang near your fire place to use on a cold night. Brand new, made in Birmingham, England from British brass which is unlacquered so the metal will age with time.
Priced at $25 each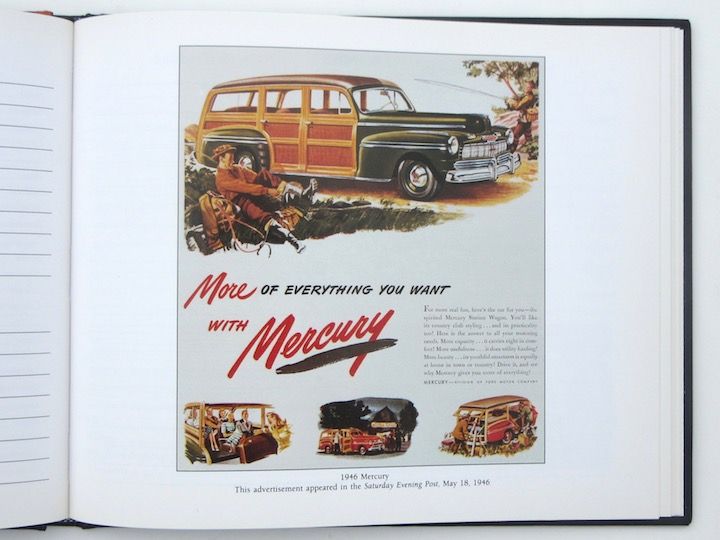 OK I know it's a book, but Guys this is worth taking a look at. From the Tin Lizzie to the original Mustang with dozens of more pics. in the book. Call it Auto Log Book or Travel Journal, but it has some great cars and ads. from the early to mid-twentieth century.