All horn items are made from real natural horns obtained by natural shedding or farming. The sizes mentioned are average. Items such as: Paper, Bar, Cheese knives etc. are all really one of a kind. The horns used are natural with differences in color shadings and shapes. As to presentation, some items do come in display boxes but to be honest, I have always been against more wrapping than is required to keep the item perfect, as in my opinion, it is a throw-away waste. I will show the box/package if it comes with the item.
A truly masculine image for any den or office space. It is seldom one fines a matched pair of horns from the same animal. Here you will see a lovely pair of polished horns with matching color and characterization. The outer curved surface is over 20 inches in length. Each has been mounted on a clear lucite base, sized at 4 x 5.5 x 1.5 inches. 

Shipping and insurance included Priced at $125, the pair
I do have some single mounted horns of this size.
Priced at $55.00 each.
Another variation of mounted horn is the use of a polished wooden block. This is a more traditional mounting for Ox-horns in the 9-12 inches length, forming a natural sculpture. The base is 4 x 3.5 x 3.5inches but this may vary slightly due to the horn dimensions. Being all natural, the actual polished horns will vary in coloring. Let me choose a really nice one for you.
Priced at only $35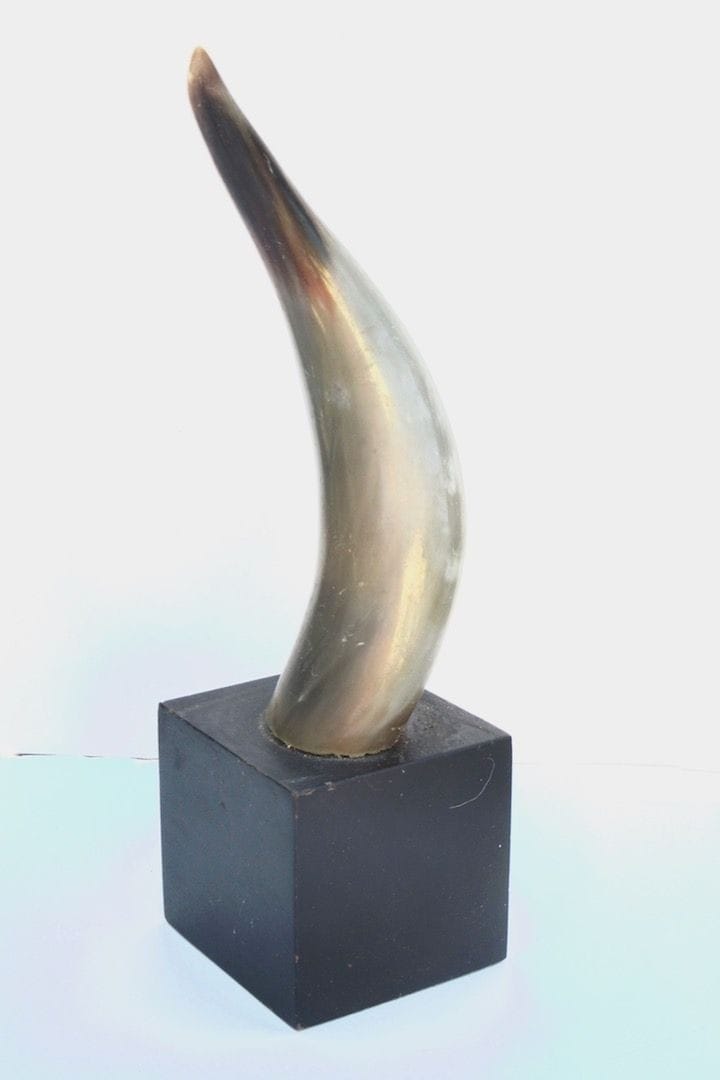 Ox horn, Laterally mounted
This polished horn forms a natural sculpture for any den or office space. It has a lovely translucent, basically blond color and characterization. The outer curved surface is over 20 inches in length. It has been mounted on a post which is centered on a clear lucite base, sized 4 x 5.5 x 1.5 inches.
Only $60.
Shipping and insurance included.
Giant Stag Horn Carving Set
.
These are the tools you need for carving the steer at the company barbecue but they certainly will show that you mean business even on a more modest meat. The handles are long stag horns with silver medallions at the shedding site. The knife blade and handle measure nearly two feet, rare indeed. The metal is the finest English Sheffield steel and will keep a keen edge.
I have 2 sets that are brand new. They are tissue and bubble wrapped. A wonderful gift at a bargain price.
Only $60 per set, including Free Shipping.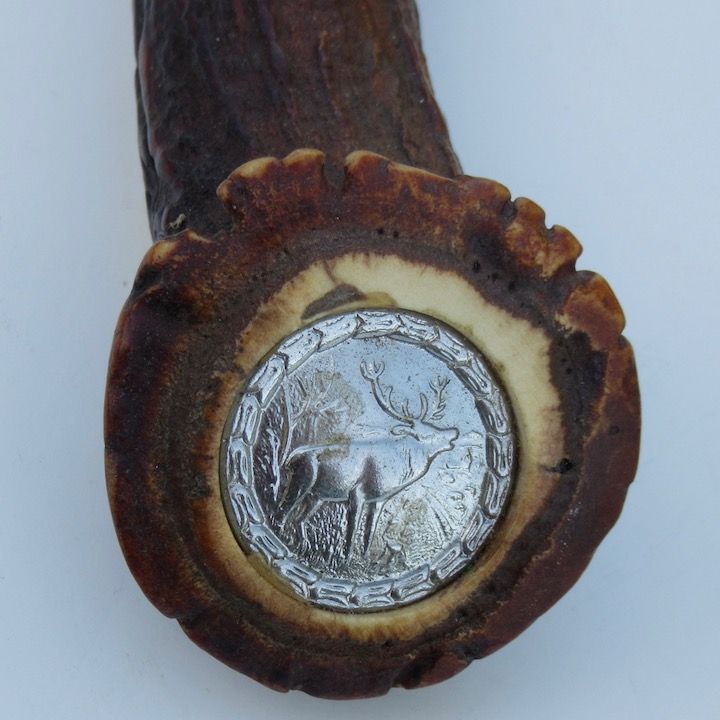 A Shoe Horn of Polished Brass.with Stag-horn Handle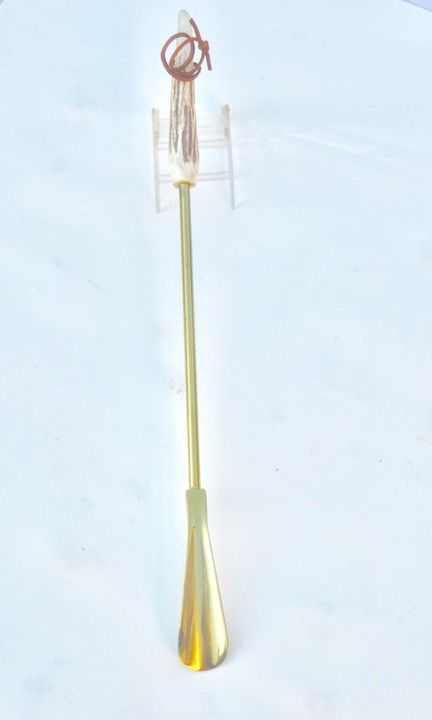 As I have aged putting shoes on has become somewhat more difficult, that was until I remembered I had these great shoe horns. I checked and it seems I only have about 6 left. They were made in Scotland of brass and a handle of Scottish deer antler. In length, it is more than 18 inches, the spooner being 4.75 inches. Made in the1970 they have all been wrapped but I did notice that there was some tarnish on some. So at no extra charge I will inspect and give them a bit of elbow grease to restore their brilliant shine. F.Y.I. British brass is seldom lacquered. In 1980, I sold them at $45 wholesale, so by offering them still at the same price I guess that's a bargain now.
$45.00 and FREE SHIPPING
Polished Buffalo Horn Table Lighter
This is just such a beautiful Item to have on the coffee table or desk. Even if you do not smoke it can be used to light the candles to set the mood.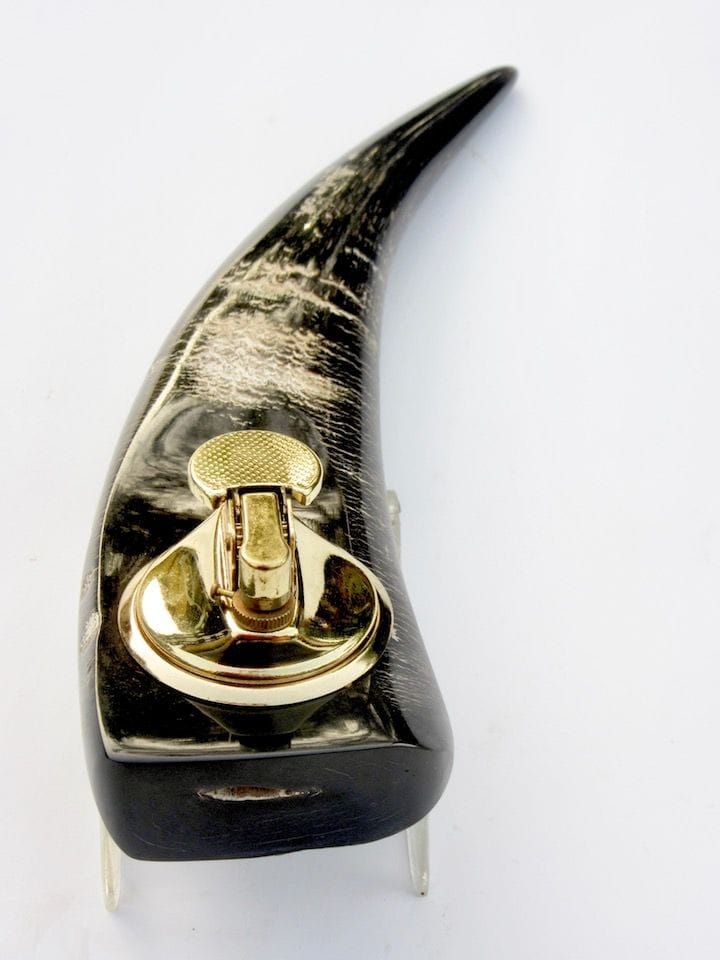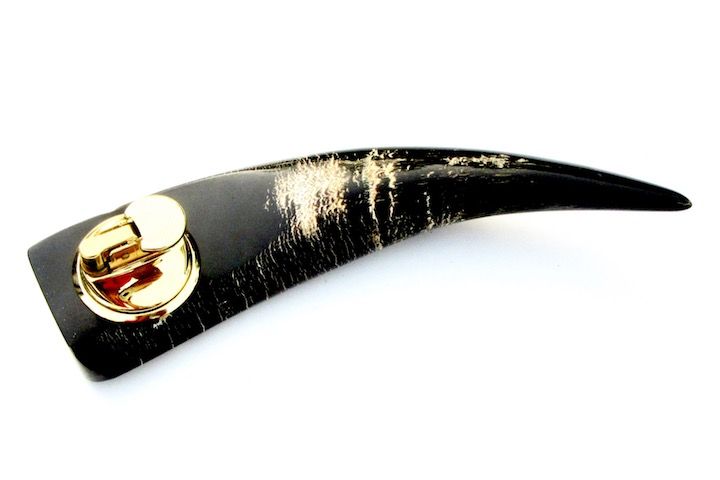 Polished Buffalo Horn with brass gas lighter in a presentation box. Size range 9 -10 inches, approx 2 inch width. No Fuel in Lighter now. Made in England.
$65 Free shipping
Horn-Backed Gentleman's Military style Hair Brushes
This pair of brushes will surely please those with locks still abundant.
Firm Bristle brushes set in a wood base, these hair brushes have real oxhorn backs. The horn color and patterning will vary but efforts were taken to match the two piece sets.
Vintage ? made in Scotland in the 1960's
Brand new, Never used, tissue wrapped.
At only $45 for the pair.
This is remarkable value.
Horn-Backed Clothes /Suit Brushes
OK, so we do not all have personal valets any more, BUT the idea of keeping dandruff off the collar is still a good one. Good, bristle brushes are more expensive but they will last a lifetime and ensure your wardrobe is maintained and protected after prolonged use. An inferior option is the adhesive lint roller, which uses sheets of sticky paper to lift debris from fabric. These can leave behind an adhesive residue that will actually attract lint and dust to your best clothes. I am offering lovely oxhorn-back brushes and a slim Travel Brush. The bristles are set in polished wood.
Clothes Brush $29.95 . Travel Brush $22.50 Both for $50 and Free Shipping
The tinkle of the small Hand Bell is now heard and associated with the collection kettles of the Salvation Army. However, those who were Downton Abbey viewers certainly will remember Violet, Dowager Countess of Grantham using such a bell to summon Spratt or Miss Denker. This approximately 5 inch bell has a stag horn handle, brass bell with lead clapper. Made in Scotland.
$22.95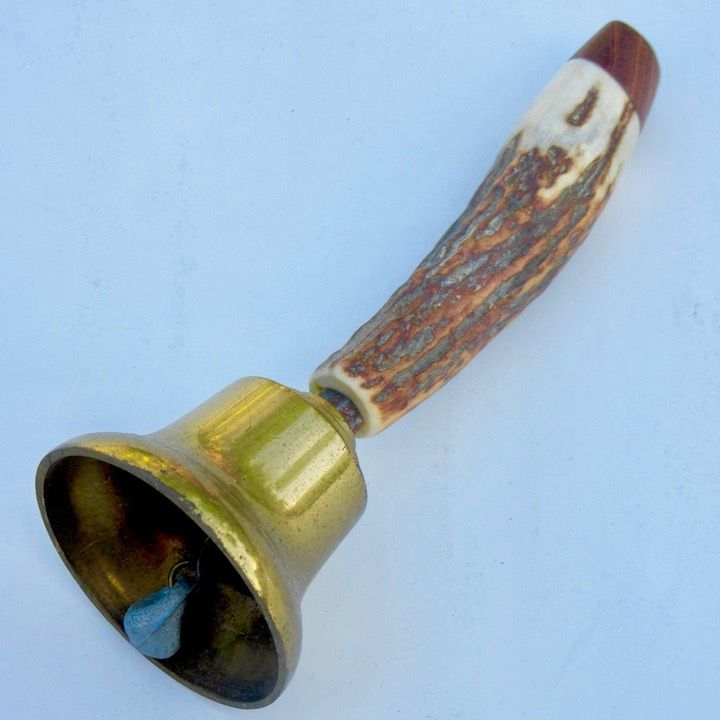 There is a lot more to see on the Next Page