Met Opera House, Chagall. OperaCatics, Bolshoi Ballet
Chagall's magnificent murals,
The Triumph of Music and The Sources of Music
in New York's Metropolitan Opera House are the 2 images chosen by the Met. for this set of note cards. 10 Cards (5 of each images) 10 White envelopes Wallet style presentation Card size 3.5 x 5.5 inches Priced at $9.95
Free shipping on 2 packets
For a matching
Note Book of The Triumph of Music
This packet of Note Cards was made for the New York's Metropolitan Opera. The five whimsical cats in operatic poses were drawn for the Met. by Ronald Searle, the English illustrator. They are truly wonderful and whether you are, or only know an opera or a cat lover or both, these cards are a must have. I have been told that some sets have been mounted and framed as a collectable.
10 cards (2 each of 5 designs) and 10 envelopes in a wallet style package. The blank inside cards have a size of 5.5"x 3.5". Priced at $9.95
Free shipping on 2 packets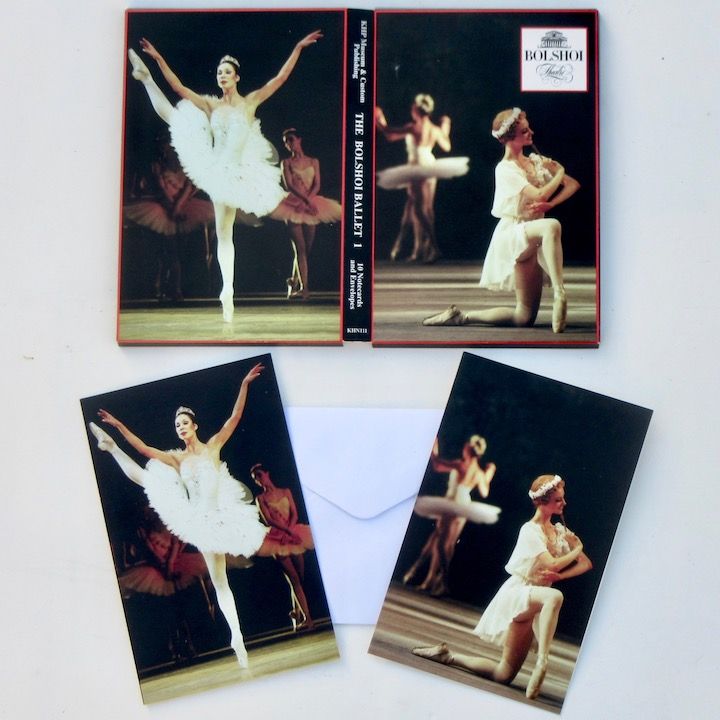 I'm a paragraph. Drag me to add paragraph to your block, write your own text and edit me.
Often when one thinks of Ballet, the Bolshoi company is probably the first name that comes to mind. These 3 packets were produced for their Lincoln Center, New York appearance.
They feature dancers: Maria Aleksandrova, Nina Ananiashvili, Nina Kaptsova, Alexei Popovchenko, Galina Stepanenko Andrrei Uvarov, and Guennadi Yanin.
Each glossy elegant wallet style package has 10 cards and envelopes ( 5 of each design shown). The blank cards have a size of 5.5"x 3.5" Priced at $9.95 I am offering a really special deal of the
3 packets at only $24.99 including Free Shipping
In many cases we have extra cards and envelopes from the various sets. Should you wish an individual card image, you may
contact us below
with your request and quantity required. We shall do our best to meet your needs. Priced at $9.95 per dozen, 6 dozen 10% discount 12 dozen 20% discount.