Impressionist Plus Note Cards
The postman,
Joseph-Etienne Roulin
was the subject for this painting. Joining it in this lovely set of note cards is the colorful and famous
Maison a Auvers
10 cards and envelopes. Priced at $9.95 Order any 2 sets of Note Cards and get Free Shipping
Degas portrayed the Parisian life style by painting people rather than landscapes. The two paintings shown on this set of note cards are
La classe de dance
which he painted in 1873-75 and
Fin d' arabesque
which he produced during 1876-77.
10 cards and envelopes.
Priced at $9.95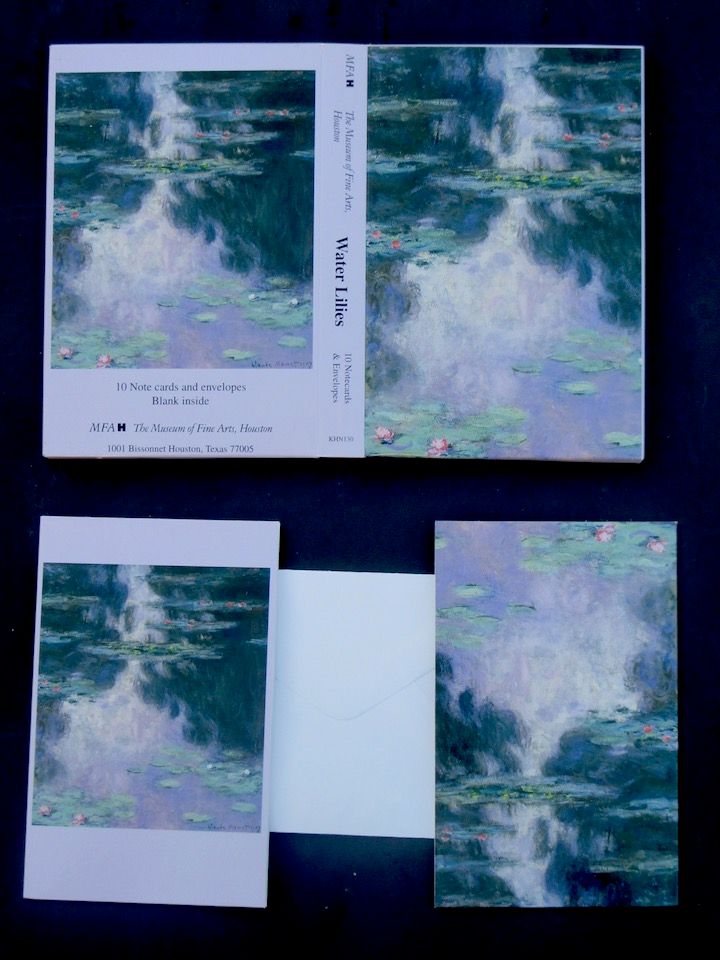 Woman with a Parasol-Madame Monet and her Son.
painted in 1875.
His first wife, Camille, poses with their son Jean. The second card in this set is
Woman Seated under the Willows.
He painted this scene in1880 with his second wife Alice, as the model. The other packet of note cards feature the full image and a detail of the famous
Water Liliies,
Monet started his garden project in 1890 by creating a pond around which he planted gardens that survive today. On the water are lily pads which he has painted many times, this version was painted in 1907.
10 cards and envelopes.
Priced at $9.95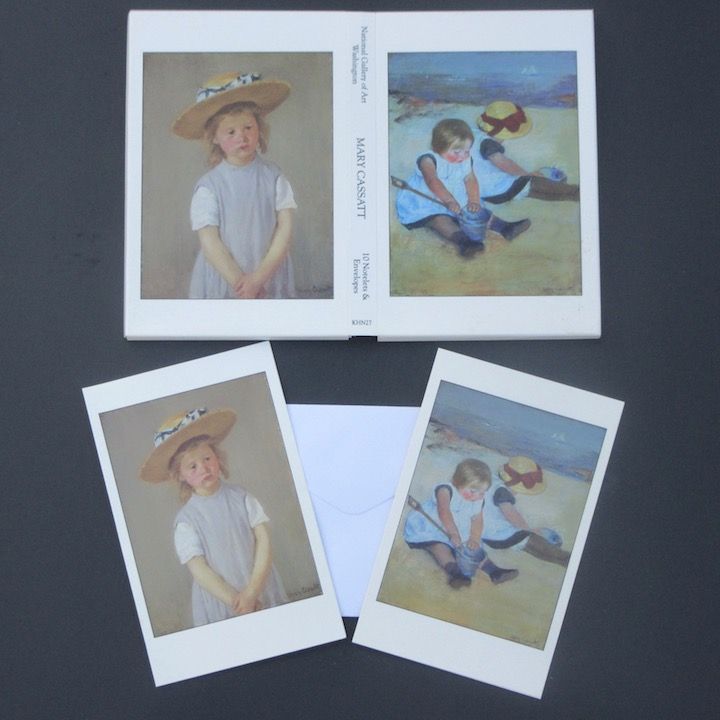 Mary Cassatt was an American who moved to Paris in 1866. She became known to a group of new artists who were known as "French Impressionists". She became a protege of Degas and eventually was invited to exhibit with the group. More than 75% of her artistic output was in the form of painting children. The two sets shown above are
Chidren Playing on the Beach
together with
Child in a Straw Hat.
The second set consist of
Susan Comforting the Baby
and
Children in the Garden
10 cards and envelopes.
Priced at $9.95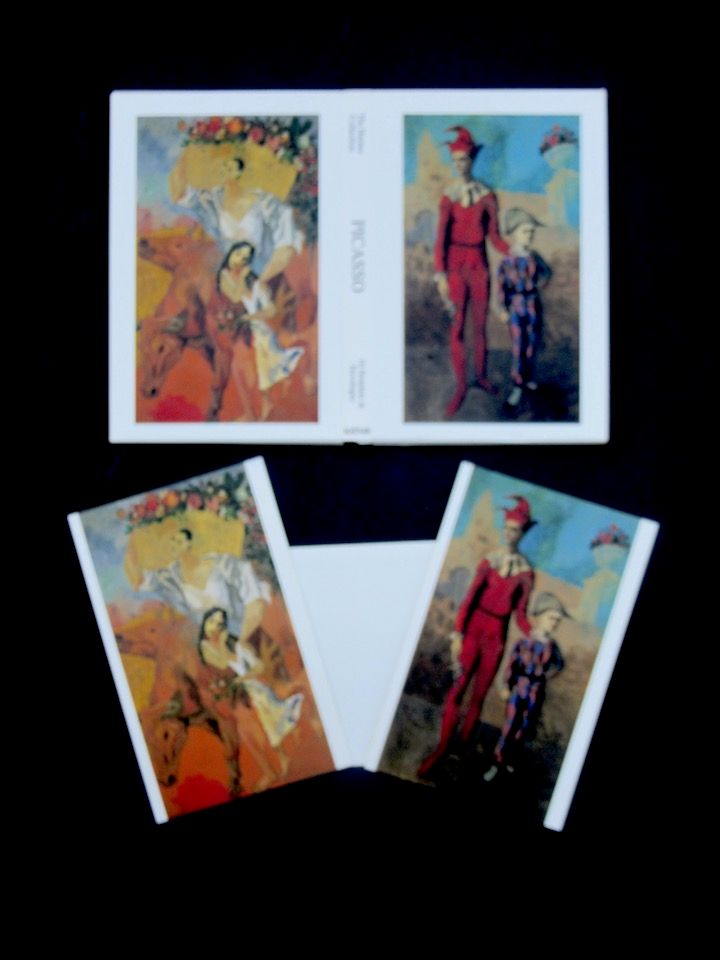 Pablo
Diego José Francisco de Paula Juan Nepomuceno María de los Remedios Cipriano de la Santísima Trinidad Ruiz y
Picasso
was born in1881 in Spain. He was a painter, sculptor, printmaker, ceramicist who spent most of his adult life in France. Regarded as one of the most influential artists of the 20th century, he is known for co-founding the Cubist movement. He died in France in 1973 aged 91. Two of his earlier works make this set of note cards special.
Acrobat and Young Harlequin
(1905)
together with
Composition: The Peasants
(1906).
10 cards and envelopes.
Priced at $9.95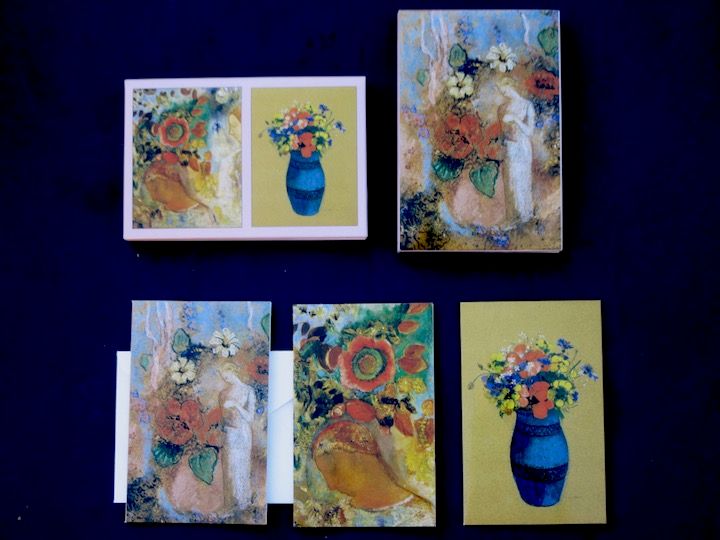 Born in France in 1840 he started to study art at fifteen by going to architectural school. Redon was influenced by Courbet and Carot painting landscapes but did not get noticed until he was 40 when he had a one man show.with dark and sober paintings. He illustrated works for Edgar Allen Poe. In later years Redon's work became more colorful as he explored mysticism which are shown in this set of:
Pandora. Two Young Girls Among Flowers, Vase of Flowers
10 cards and envelopes. (4 of Pandora 3 each of the other two)
Priced at $9.95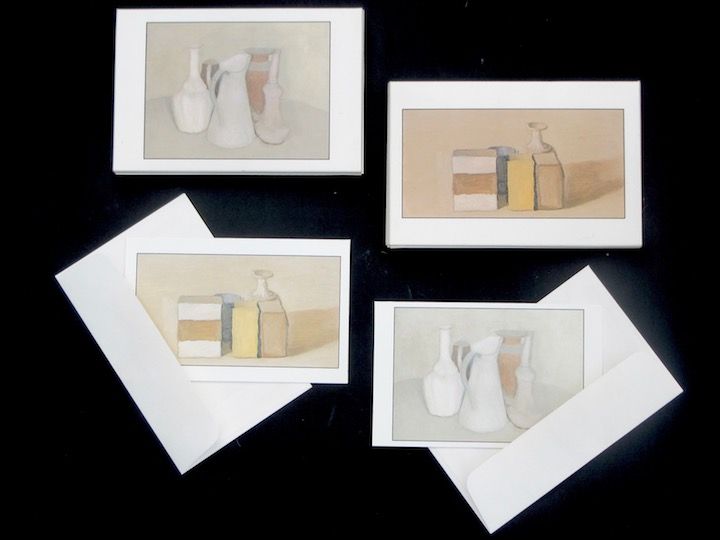 Born in Bologna, Italy, Morandi's works suggest a quiet meditation of the tones and architecture of his home town. These paintings celebrate the surface beauty of objects. Both paintings made in the early 1950's provide the images for this attractive set of note cards.
10 cards and envelopes.
Priced at $9.95
Order any 2 sets of Note Cards and get Free Shipping.
In many cases we have extra cards and envelopes from the various sets. Should you wish an individual card image, you may contact us below with your request and quantity required. We shall do our best to meet your needs.
Priced at $9.95 per dozen, 6 dozen 10% discount 12 dozen 20% discount.