Paintings from White House, Dutch Floral , Impressionist Images and Cats Address Book,
There are many items on this page.
Please scroll down
to see them all.
People some times say "who needs an Address Book, I have them all on my phone or computer".
YOU
will be really thankful if you have a hard copy saved in one of these books when your Hard Drive dies or your phone is lost.
F.Y.I. There are cards from the White House which would be a thoughtful addition if you are buying this Address Book as a gift.
No matter who the resident of the White House is, the house is graced by wonderful art works. The White House Historical Association together with KHP, produced this most elegant Address Book. It is hard covered with an enclosed wire-o binding. The step indexed book is divided with laminated pages featuring a front and back image. Lavishly illustrated with over 40 full color images from the White House's Collection of paintings. Works by Albert Bierstadt, Mary Cassatt, Winslow Homer, Claude Monet, Norman Rockwell, John Singer Sargent and other world renowned artists are shown. With space for over 600 names, each has a place for Name, Address E-Mail, Home phone Cell phone. Office number Fax and Birthday. Plus there is space for another 100 E-Mail Addresses. The book has a clear layout and is particular easy for the elderly to use.
Size is 9 x 8 inches. It is shrink wrapped and comes in a mailable box.
$29.95 FREE SHIPPING .
Impressionist's Address Books
Henri Matiss's
The Red Madras Headdress,
Paul Cezanne's
Ginger Jar and Fruit
and Pierre-Auguste Renoir's
The Artist's Family
are the cover image for these hard cover, case bound, Smyth sewn books. Each has a gloss laminated cover that is shrink wrapped. Inside are 10 color images of Impressionist paintings. Cover size 4.25 x 5.75 inches.
$7.95. Free shipping.
Dutch Floral Address Book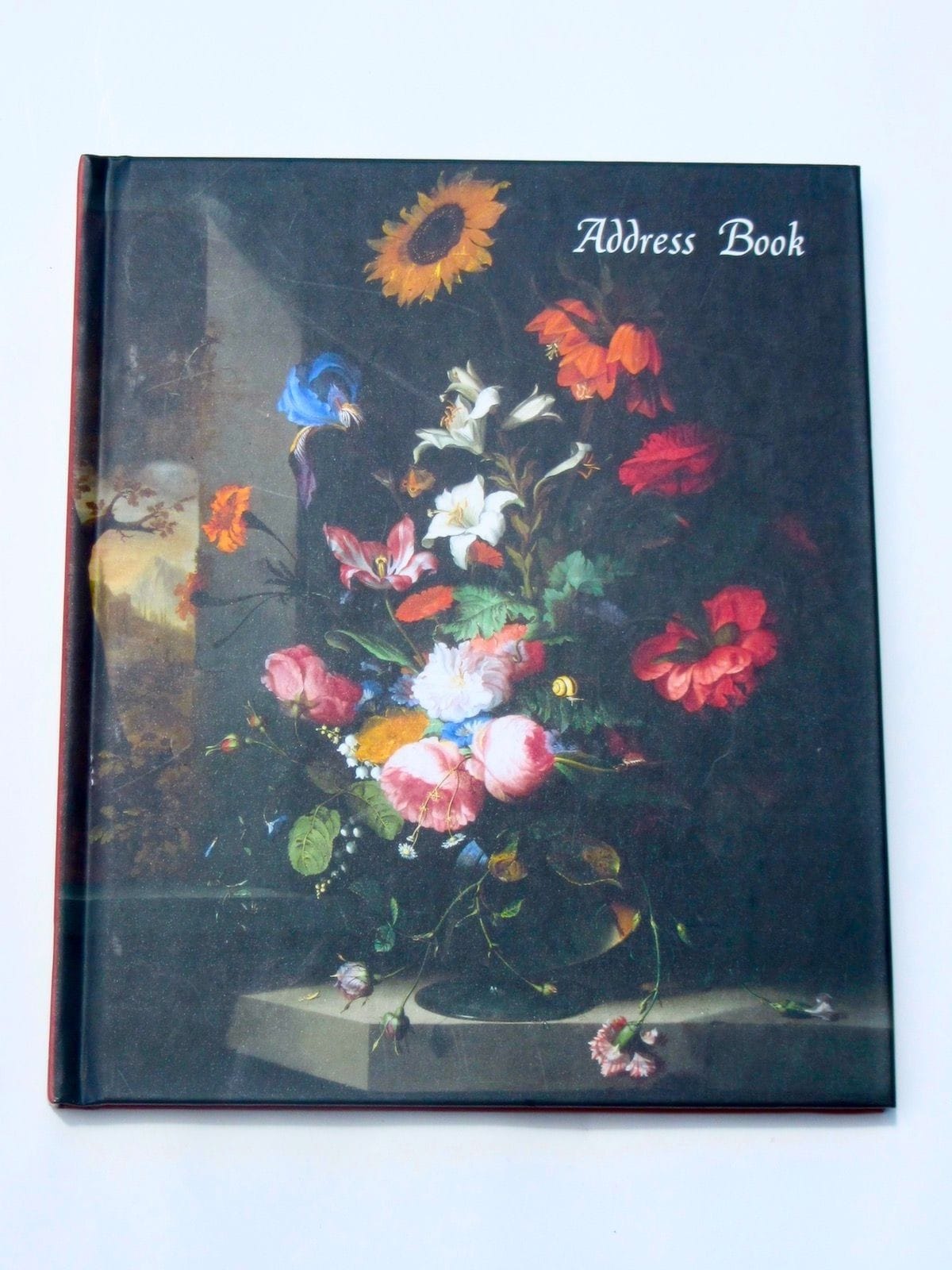 This beautiful Floral Still Life by Jacob van Walscappelle graces the cover of this book. With a matte laminate cover it has sewn pages, attractive red end papers and a practical step indexed alphabetized letter segments. While still listing a Fax number most people now use the space for Email contacts.
Shrink wrapped Size 7 x 8.5 inches
$ 9.95 FREE SHIPPING
Black or White Long-Haired Cats Address Books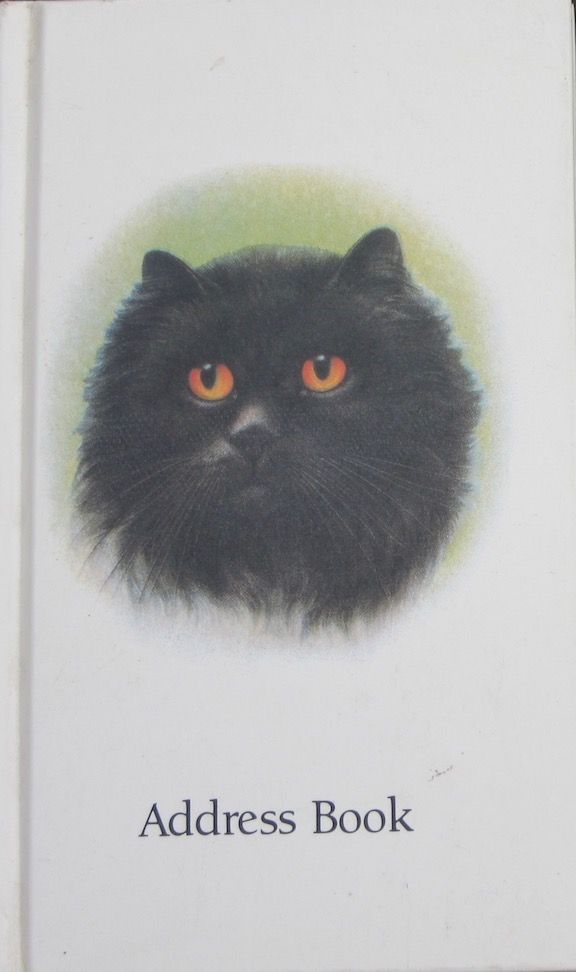 These address books have a hard cover with sewn and step indexed pages. The laminated gloss covers feature a black or white Long Haired cat. But not only is it an address book. I can tell you the book is a "God Send" to list all those Email and website passwords that in a short time become really secure
to us
,
......
when we cannot remember them.
Shrink wrapped Size 5 x 8.5 inches
Priced at only $8 95
Natural History Museum's Butterfly Address Book
This is such an attractive little book, starting with the host of butterfly images that make the "End Papers" of the book. Each of the 24 step-indexed pages features historical colored images of butterflies. The book is a hard-cover with sewn pages that will last for many years of use. Sized at a neat 3.5 x 5.75 inches it will fit into any purse or pocket. Vintage, new in original shrink wrapping.
Priced at $9.95